Calendar of Events
Spring Heads' Institute/Retreat 2020 (Postponed)
April 24-25
Luang Prabang, Laos
» click here
EARCOS-CIS Institute on International Admission & Guidance
September 18-19, 2020
Bangkok, Thailand
» click here
Awards & Grants Deadlines

Professional Learning Weekend Grant Request
Deadline: April 10, 2020
» click here
EARCOS Global Citizenship Award
Deadline: April 14, 2020
» click here
The Richard T. Krajczar Humanitarian Award
Deadline: April 15, 2020
» click here
Biosphere Camp Scholarship
Deadline: May 24, 2020
» click here
Community Service Grant
Deadline: June 1, 2020
» click here
Margaret Sanders Scholarship
Deadline: November 1, 2020
» click here
ET Journal Winter Issue 2019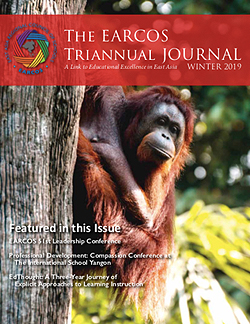 The ET Journal is a triannual publication of the East Asia Regional Council of Schools(EARCOS), a nonprofit 501(C)3, incorporated in the state of Delaware, USA, with a regional office in Manila, Philippines.
Featured in this Issue
- EdThought
- Curriculum
- Community Service
- Service Learning
- Professional Development
EARCOS Leadership Mentoring 2020 update

During the recent ELC 2019 Dr. Chris Jansen conducted a pre-conference workshop designed to examine the current EARCOS Leadership Mentoring program(ELM), with an eye to streamlining the program. Twenty participants engaged in activities and discussion around the positives and negatives of the existing program. The resulting suggestions are being incorporated into a revamped process with less focus on the training modules, which seemed to create a time burden on those interested in participating in the program.
The revised EARCOS Leadership Mentoring(ELM) program is now open to those in leadership positions such as heads of school, principals, learning leaders, etc. wishing to become a mentor, be mentored, or to develop a peer-to-peer mentoring relationship. Details of the programme can be found in the revised ELM Handbook. (https://tinyurl.com/swetfxw)
Those interested in being involved in the program as mentors or mentees are invited to complete the registration and preference ELM questionnaire. Please register your interest by February 1st 2020. (https://tinyurl.com/tae2jqz)
Any queries please contact Bill Oldread boldread@earcos.org or Chris Jansen chris@leadershiplab.co.nz