AD Institute
AD JOB-ALIKE
This session allows for AD's to share resources associated with various programs within their school. The particular focus will be on providing opportunities for AD's to electronically share resources under "big school/small school" groupings. Participants should come prepared with USB, ready to share what they have found to be useful in the roles as Athletic/Activities Directors.
Facilitated by: Steve Doleman, Activities Director Shanghai American School, Puxi Campus and Derek Kensinger, Activities Director, American School in Taichung, Taiwan




Steve Doleman hails from New Zealand and has a Master of Education degree. He is in his 34th year of teaching, and comes from a HS Physical Education background. He has been in Asia for the past 20 years, initially as Director of Athletics and Activities at ISManila. Having previously taught in NZ, London, Switzerland, Philippines, Steve is currently serving his 15th year as Activities Director at SASPX.


Derek Kensinger hails from California where he grew up playing baseball. Derek has a BA from Colby College, an MEd from University of Alabama, FIVB Level I coaches training, and a MA in the works from University of San Francisco in Leadership and Organization. Derek spends much of his spare time reading educational journals and considering how to improve the educational climate for his school and students.
-----------------
Coaching Evaluations - a 360 degree perspective
The job of a sport coach is a varied and complex one at any level of participation or performance. Despite the understanding of the important role that coaches have in our school programs, their evaluative process often overlooks many aspects involved in the daily dealings with athletes. This workshop will talk about current research that outlines the benefits of a 360 degree evaluative process for sport coaches and will give opportunity for a roundtable discussion to brainstorm the processes currently in use in international schools to monitor, evaluate and support sport coaches.
Facilitated by: Shelley Wowchuk, Administrator - Athletic Director/ Activities Coordinator, Saigon South International School in Ho Chi Minh


As you can tell from her glamor photo, Shelley enjoys every moment she can get in the sunshine. Her best friend is her apple computer, and large numbers of emails in her "unread" folder keep her excited and focused throughout the day. Her husband Andy, all things Google and large pots of black coffee keep her sane and approachable. Two masters degrees plus 27 years of experience have lead her to this point in time.
-----------------
The Activities & Athletics Department Role in School-wide Character Education
Very few of our schools are preparing student-athletes for a collegiate athletic career. 99% of the students that experience our program are learning more about Character Education than they are learning sports skills or X's and O's. Yet seldom does our Activities and Athletics program have a stated objective of Character Education in line with your school's Core Values. If it does, it is generally in a language that does not resonate with our most important stakeholder: the students. In this presentation we will discuss the importance of aligning your department philosophy as well as making Character Education relevant to the student participants and spectators.
Facilitated by: Kim Criens, High School Athletic Director, Singapore American School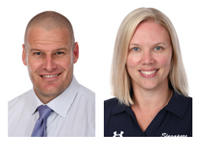 Kim Criens and Tracy Van Der Linden are currently the HS Activities & Athletics Directors at Singapore American School. Though passionate about sports, competition, and artistic performance, they believe it is the character lessons that students experience in the pursuit of competitive or performance excellence that is the secret sauce to a meaningful Activities & Athletics program.
-----------------
Conducting Effective Parent Meetings
This workshop examines the different types of parent meetings an athletic administrator is likely to be involved in facilitating, ranging from large group sessions to one-on-one conversations, by focusing on the purpose and goals of each meeting as well as strategies for achieving the best outcomes for all. For the benefit of all, participants will have an opportunity to discuss and share their own successes and shortcomings.
Facilitated by: Brad Schmock, Director of Activities/Athletics High School Teacher Chiang Mai International School (CMIS)


Bradley Schmock was born and raised in Wisconsin, USA, and he developed a passion for student affairs and activities as an undergraduate at the University of Wisconsin-Madison. In 2009, Bradley moved aborad and has worked in a variety of roles in international education including as a High School Teacher, College Admissions Adviser, Member of Board of Directors, and Director of Activities & Athletics. Since 2012, Bradley has been the Director of Activities & Athletics at Chiang Mai International School (CMIS) in Thailand. 2017 is Bradley's fourth EARCOS Leadership Conference, second as a presenter.
-----------------
School of Dreams: Using extra-curricular events to foster connections and build community.
"If you build it, they will come." This session will examine the use of extra-curricular events to bring different groups of students together, to foster connections between students and the larger community of which they are a part, and ultimately to shape school culture. Participants should come ready to share how they use events at their schools to leverage the extra-ordinary in extra-curricular. What has worked and what hasn't? How do we measure success? And finally, what good things have to go to make room for better ones?
Facilitated by: Anthony Giles, PK-12 Arts & Activities Director, International School Bangkok


Throughout his career in education, Anthony Giles has pursued projects and events that inspire individual student learning, bring different learners together, and enrich the school communities of which those learners are a part. As Director of Arts and Activities at International School Bangkok he believes his primary responsibility is to provide support for all student and teacher led organizations hoping to do the same with their respective areas. He and his wife Jackie (HS Counselor at ISB), and children, Zachary 15, and Cruz 7, love living in Thailand. Their two daughters, Amanda (ISB '13), and Mackenzie, attend Colorado School of Mines, and the University of Puget Sound respectively. Go Panthers, Orediggers, and Loggers!!!