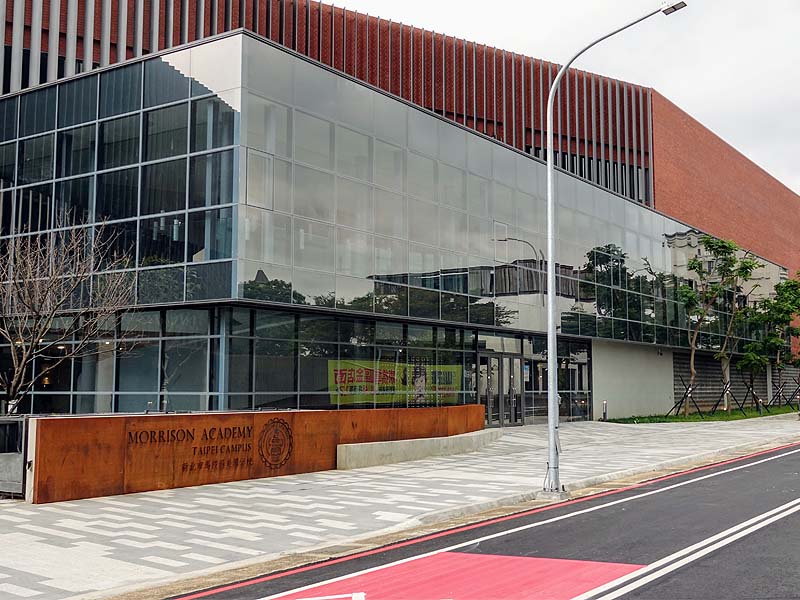 Morrison Academy Taipei Campus
Submitted by: Joshua Warren, Director of Communications
Appeared on the ET Journal Spring Issue 2021
Morrison Academy is an international Christian school in Taiwan founded in 1952 to meet the educational needs of missionary children. Morrison currently operates four distinct campuses in cities throughout Taiwan: Taipei, Taichung, Chiayi, and Kaohsiung.
For decades, Morrison searched for land in Taipei City to expand its campus there, but to no avail. In 2015, Morrison was granted the right to lease land from New Taipei City, Linkou district, a growing urban area about 25 km from downtown Taipei City. The new campus has allowed Morrison to expand to a full high school program with green space and standard athletic facilities, allowing it to more effectively fulfill its mission of serving the religious community in northern Taiwan.
The basic layout of the campus consists of three main buildings, namely The Central Building (A), the Classroom Pods (B), and The Athletic Building (C). Additionally, a standard size outdoor soccer field (D) is located adjacent to these three buildings. Twenty-two spacious apartments (E) for faculty and staff are located in a quiet corner of the campus overlooking a lush, green valley.
The Central Building (A) houses a multi-purpose room outfitted with state-of-the-art audio and acoustical technology to accommodate visual performing arts. Also noteworthy in the Central Building are its Performing Arts Rooms and Art Studio, all of which feature vaulted ceilings and are equipped with traditional and modern tools of the trade. A sleek yet cozy library houses plentiful books and innovative reading nooks for kids to get lost in reading. The ground level of the Central Building provides indoor parking to support large events and a single access entrance secured with biometric technology.
The Classroom Pods building (B) boasts a spacious, flexible learning space on each floor designed for collaboration, team projects, displays of student work, and assemblies. High schoolers enjoy generous "chilling space" for healthy socializing as envisioned by the student representatives on the design team. Sleek, full-size lockers and cubbies are also built right into the walls surrounding these areas. Students have easy access to guidance counselors and chaplains with their offices located in the student center area. Off the middle school pod lies a dedicated makerspace and the elementary pod provides a custom-built treehouse and wet makerspace. Each floor also features comfortable teachers' lounges and workrooms.
The Athletic Building (C) features a fully furnished and beautifully constructed gymnasium with a glistening, custom hardwood floor and retractable bleachers. Overlooking the gymnasium is a fully equipped fitness room used by students and staff. The Athletic Building is also home to a covered outdoor court, a vast space for a variety of sports tournaments and community activities. The outdoor court merges seamlessly into a learning-oriented playground that is divided into both a covered section and an outdoor portion in order to provide students with plentiful and innovatively designed space suited for all seasons.
The Morrison Academy Taipei Campus is an elegant addition to the growing Linkou community in New Taipei City. With its impressive overall 25,534 square meters of floor space, it's also a pleasantly imposing one. It was designed by Taiwanese architect Paul Jou and his firm, Grow Architecture, and has been nominated for two awards in Taiwan, the "ADA Awards for Emerging Architects" and the "2020 Taiwan Architecture Award," as well as two international awards, the "Golden Pin Design Award" and the "IF Design Award." The spacious interior of the building is a pleasant balance of tried-and-true construction techniques involving concrete and a red brick facade, yet it is also heavily accented with modern, tastefully placed steel and glass structures. Laudable not only for its refined interior design and innovative use of open spaces with abundant natural light, the campus has also been praised for its environmentally conscious use of renewable energy. The investment in solar panel capacity of 734 kw/hr blanketing the school building roofs is poised to offset the school's annual electricity expense for many years to come.
About the Author
Joshua Warren is the Director of Communications at Morrison Academy in Taiwan. He can be contacted at warrenjo@mca.org.tw