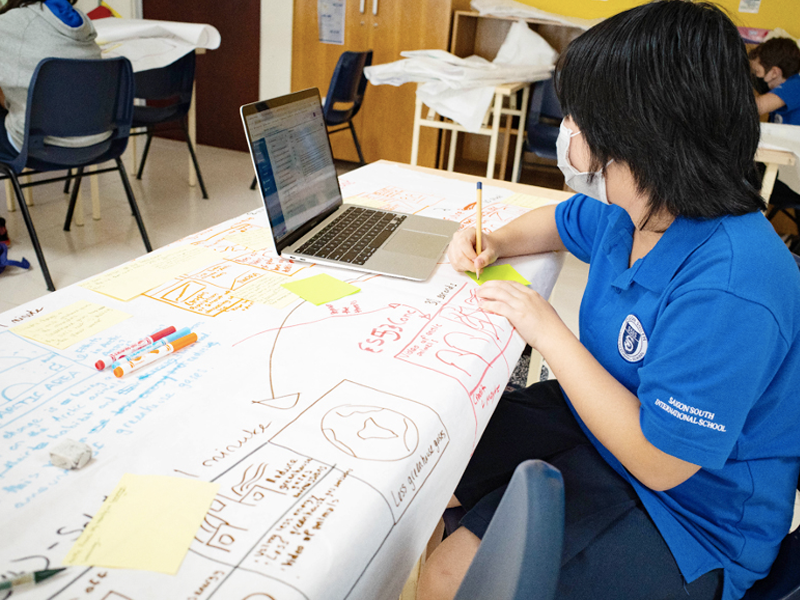 Language Arts and Science: Design Thinking Across Subjects
Submitted by: Matthew Francis and Brian Benck, Saigon South International School
Appeared on the ET Journal Spring Issue 2022
Creating a persuasive documentary highlighting both reasons and solutions for climate change around the world is a cross-curricular project that has been part of the Grade 8 Curriculum at Saigon South International School for the past five years. The goal is to blend Language Arts Standards involving persuasive writing, plot development, and writing for audience appeal, with science concepts and standards pertaining to how the natural world is affected and healed through human habits and interactions. Perhaps the overall goal was best explained by a student who commented that, "I gained much more perspective from the standpoint of a particular species, and how one species can be affected, and how nature is tied together."
The design thinking concept was used to allow creative practices to occur. By asking Grade 8 students: 'What are the solutions to Global Warming?' the Science and Language Arts subjects combined in a unit to allow the creativity of students to shine through, using a design thinking framework which enabled students to 1.) understand, 2.) explore and 3) materialize their ideas.
In Science, students identified the scientific credible causes and effects of climate change. With facts in hand, students were allowed in Language Arts to take the opportunity to develop a storyboard where methods of persuasion, plot elements, and scientific facts were combined to create a rough draft of the film.
Students use climate change as the medium to explore, research and create a piece of work which draws an emotional response and attracts the attention of the audience. The coordinated, cross-curricular approach between Science and Language arts provides the unique experience for students to complete a rich and rewarding assessment task based on a relevant and very worthwhile 'real-world' problem, allowing students to also have a voice into the possible solutions for the future.
While students research their climate change topic, the Science class is provided with the opportunity to address key NGSS curriculum power standards which allow students to ask questions to clarify evidence. Students have the opportunity to analyze and interpret data on natural hazards and catastrophic events while gaining experience at applying scientific principles to design a method for monitoring and minimizing human impact on our environment. In speaking about the data analysis techniques used, one student felt that the, "Use of graphs improved my observation skills and ability to see how tiny details are important to the big picture of climate change." These details became an important part of what would later be presented in the form of a persuasive documentary.
Meanwhile, Language Arts studies the nine types of persuasion and decides the best methods for convincing an audience that everyone has a role to play and should care about the changes affecting our planet. This starts with a study of different persuasion types and how they can be used both for good and bad purposes, such as a bandwagon approach when used to rally people to a noble cause as opposed to being used as a force of peer pressure to part teens from their hard earned money.
Another key element of the project is the inclusion of an interview. Students are asked to interview an expert who can add value to the message in their documentary. This exposes students to 'networking' and developing the skills to elicit important information from a third party. It also takes the students' learning outside the classroom and into the 'real world' and engages their interest in the opinions and responses to this subject in the wider community. Often viewed as the truly stressing aspect of the project, an eighth grader was quick to point out that, "I felt really nervous having to contact an adult I didn't know for a topic I was just learning about. Once I had my interview, I felt really proud and thought it was cool that someone I didn't know was willing to help me."
Once scientific information is gathered and organized using NoodleTools, the storyboard portion of the unit provides a chance to close computer screens, get out the markers, and create a fun, comic style rough draft of the film complete with sketches, bullet pointed plot summaries, and timeframes for different scenes. Also, the NoodleTools notecards are distributed throughout the "body" of the research project to determine where specific facts best fit. This storyboard is then converted into a final draft script complete with links to video, sound effects, and student voiceovers. " The storyboard was stressful due to the physical nature of the project, but I impressed myself with my drawing skills, and liked the fact that it required extra creativity and gave me more freedom because I was not tied down to digital art during the planning stages" said one student while reflecting on the project.
Parent and peer viewing sessions end the unit with audiences experiencing socially conscious videos based on the responsible use of both facts and persuasion. Viewers also witness the year long culmination of skills pertaining to the development, organization, and final execution of large scale research projects. In summing up her feelings of success, one student remarked that, "The project was interesting because it was a long time since the last documentary or film I made. This work was much more independent, I liked having more self-planning and control over the final film."
As a final note, this project was able to be completed successfully even throughout the rise and spread of the Covid during Vietnam's most recent wave. Students forced to attend classes via Zoom were able to obtain the information they needed during science class due to the school's successful adaptations to a concurrent learning model. Storyboarding in Language Arts was switched from markers and paper to digital slides if necessary. This allowed students to complete the project successfully even if forced to switch to a digital model halfway through the storyboarding process. Finally, video editing and final scripts were easily accomplished from the classroom or home due to the flexible nature of Google Drive, making documents accessible and shareable from wherever the pandemic found us working.
About the Authors
Matthew Francis is a MS Math and Science teacher. Brian Benck is a MS English teacher both from Saigon South International School.