Special Event
Combined Leadership & Teachers' Conference 2022
The East Asia Regional Council of Schools is excited to invite you and your administrative staff as delegates to this special event combined EARCOS Leadership & Teachers' Conference in Bangkok, Thailand scheduled for March 22 to 26, 2022. We have a host of excellent keynote speakers and workshop presenters. We think the conference will prove to be professionally stimulating and will provide you with an opportunity for networking and building camaraderie.
This special event will help those who will be able to travel to catch up on lost opportunities, to gather again face-to-face and to share so much that needs to be shared. Additional information will be available before the summer break.
The ELC & ETC has always have three excellent keynote presenters. We have lots of preconference offerings and over 120 workshop sessions, all geared to meet the needs of our schools and board leaders. EARCOS is fortunate to have so many of our own school leaders and teachers who have volunteered to present workshops. Their contributions help to make EARCOS the great organization that it is!

Pre-conference: March 22 and 23, 2022
Main Conference: March 24 to 26, 2022

SAVE THE DATE !
Leadership Stories
Each year at our annual EARCOS Leadership Conference (ELC), some of the best and most practical presentations come from our own home grown leaders in the EARCOS region. Below are three leaders presented their Leadership Stories while addressing over 1,000 educational leaders from all over Asia.
"Watch & Listen as they Tell stories that make a difference"
DICK ROBBINS
President and CEO of Brent Schools
Title: "Those Brown Eyes"
THOMAS FARRELL
Former Superintendent Kaohsiung American School
Title: "What I Learned from 50Years as an Educator"
CHIP BARDER
United Nations International School of Hanoi
Title: "International School Leadership - Failures to Successes - It's in the Lyrics"
Conference Report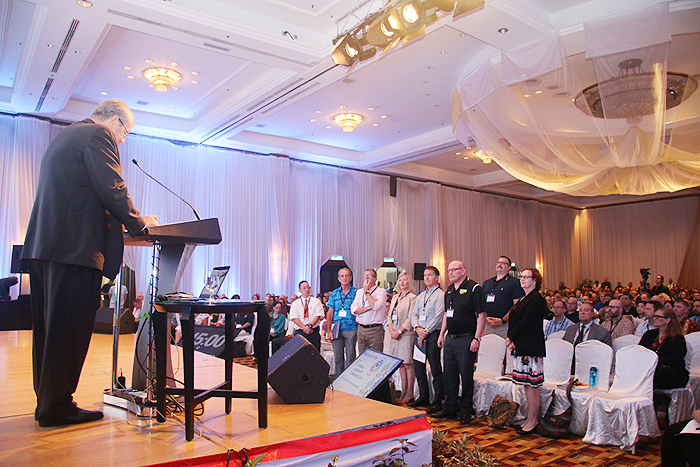 Dr. Edward E. Greene, EARCOS Executive Director acknowledges EARCOS Board of Trustees during the
first general session at the Sutera Harbour Hotel, Kota Kinabalu, Sabah, Malaysia.
Theme: "Nurturing Growth and Building Relevance"
By Bill Oldread, EARCOS Assistant Director
The 51st annual EARCOS Leadership Conference was held at the beautiful Sutera Harbour Resort in Kota Kinabalu, Sabah, Borneo, Malaysia from October 31 to November 2, 2019. This year's conference, presided over by our new Executive Director, Dr. Edward Greene, attracted nearly 1200 school board trustees, heads of school, principals, directors of learning, athletic directors, business managers and admissions, communications and marketing directors from the EARCOS region and around the world.
Each day of the conference opened with a plenary session led by a keynote from one of three outstanding educational thinkers. On day one, Graham Brown-Martin challenged us to consider the future of work in light of the most pressing issues facing the world; climate change, population growth, and migration along with advances in technology such as genetic editing and artificial intelligence. On day two, Carline Firmin introduced the audience to the global nature of peer-abuse between young people in schools, focusing on the dynamics present in international school contexts. Will Richardson provoked the audience on the final day to honor and expand the freedom and agency of our students to learn what they want, when they want, with whomever they want, in whatever ways make the most sense to them.
In addition to the three exceptional keynote speakers, the conference offered over 140 workshop sessions and 11 pre-conference sessions on such topics as board governance, intercultural leadership, child protection, assessment, curriculum, admissions, marketing, school change and more. The conference provided not only great learning experiences, but abundant opportunities for networking and meeting new colleagues.
The opening day welcome reception was held in the cavernous lobby area of the Magellan Hotel and featured entertainment by indigenous dancers. Over 700 delegates enjoyed the excellent food, drink, and camaraderie. The closing reception was equally well-attended though due to heavy rain, the venue was moved to the Pacific ballroom.
Once again the wonderful staff of both hotels treated our delegates like royalty. Our sincere thanks go to Hasnaffina Hassnar (Fina) and Noorhayati Amat (Nora) and their staffs for their outstanding service and hospitality.
Thank you to all those who attended ELC 2019. We invite you to join us again next year, when the next ELC will be held once again at the beautiful Shangri La Hotel, Bangkok. We look forward to seeing you there.