EARCOS Sponsored Event Presenting Virtually by Kendall Zoller
Live, interactive online events to develop your virtual presence. These 3-day series focus on developing you with a powerful online presence. Space is limited to maximize your personal development.
>> More information and registration
EARCOS Webinar
Drs. Evans and Thompson will discuss the five essential approaches leaders should use to help their communities remain strong in the face of fear and uncertainty.
EARCOS Dwight School Seoul webinar from closure to e-Learning a journey with Dwight School Seoul and the preparation of the return to School. The differences and challenges of reopening schools in times of COVID-19.
Awards & Grants Deadlines
Professional Learning Weekend Grant Request SY 2020-2021
Deadline: September 1, 2020
» click here
Margaret Sanders Scholarship
Deadline: November 1, 2020
» click here
ET Journal Spring Issue 2020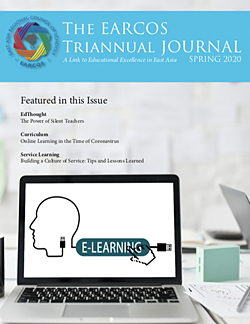 The ET Journal is a triannual publication of the East Asia Regional Council of Schools(EARCOS), a nonprofit 501(C)3, incorporated in the state of Delaware, USA, with a regional office in Manila, Philippines.
Featured in this Issue
- EdThought
- Curriculum
- Community Service
- Service Learning
- Professional Development